Steel Hawk cartridges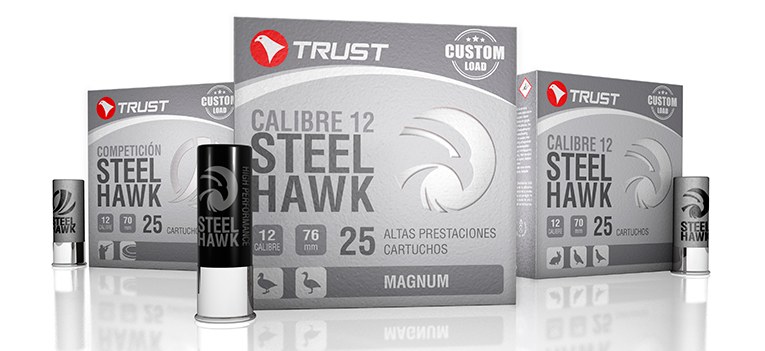 TRUST STEEL HAWK™ cartridges are the latest example of sustainability in hunting and competition cartridges, offering top performance. Assembled with top-quality components, following Trust's manufacturing methods, STEEL HAWK™ cartridges provide the shooter the safety he or she needs.
With perfectly calibrated spherical steel pellets and surface hardness 110 on the Vickers scale, contained in a comprehensive anti-abrasion protective wedge, they offer a gentle yet forceful hit.
STEEL HAWK™, exceptional performance on any terrain and under any weather condition.
Trust Steel Hawk Competition 24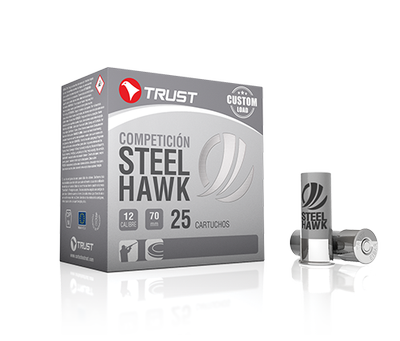 Gauge: 12

Case length: 70 (mm)

Brass base length: 16 (mm)

Load: 24 (gr)

Shot type:

– 7(ø 2.54mm)
– 9(ø 2.29mm)
Wad: Plastic

Velocity: 400 (m/s)

Units: 25/250

Species
Trust Steel Hawk Competition 28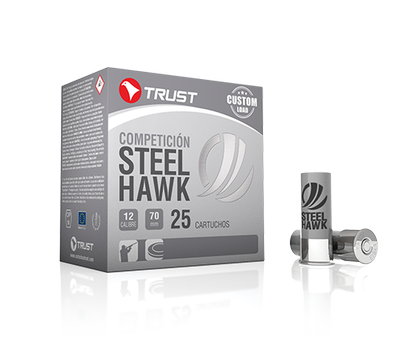 Gauge: 12

Case length: 70 (mm)

Brass base length: 16 (mm)

Load: 28 (gr)

Shot type:

– 7(ø 2.54mm)
– 9(ø 2.29mm)
Wad: Plastic

Velocity: 400 (m/s)

Units: 25/250

Species
Trust Steel Hawk Game

Gauge: 12

Case length: 70 (mm)

Brass base length: 16 (mm)

Load: 32 (gr)

Shot type:

– 3(ø 3.56mm)
– 5(ø 3.05mm)
– 7(ø 2.54mm)
Wad: Plastic

Velocity: 390 (m/s)

Units: 25/250

Species
Trust Steel Hawk Magnum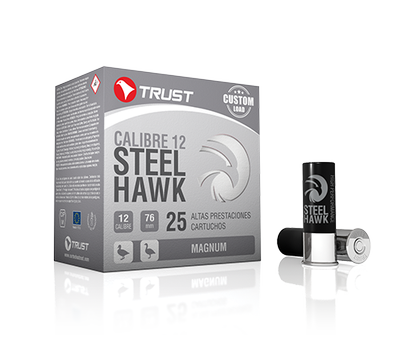 Gauge: 12

Case length: 76 (mm)

Brass base length: 25 (mm)

Load: 35 (gr)

Shot type

– 1(ø 4.06mm)
– 3(ø 3.56mm)
– BB(ø 4.57mm)
Wad: Plastic

Velocity: 430 (m/s)

Units: 25/250

Species